Aki Promoted to Full Mystic!
Posted on December 10, 1999 in
Uncategorized
Day 21, Year 536 of the Ascendancy
Happy New Year all! Today was surely a day to be
recorded in history. From the moment I came out of the library, I knew
something was happening. There was just something, different in
the air. My suspicions were confirmed when I found three Mystics
speaking with none but Aki, within the Mystic Academy. After a long
delay(Mystics) Aki was promoted to the status of full Mystic!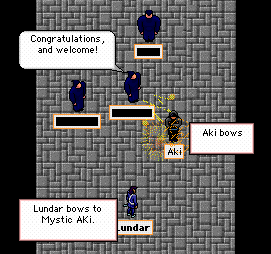 After being promoted, Aki took a stroll through town in his new uniform, and he was given the reception of an Ancient.
Grudos, Aki, on making 1rst circle! 😉 As for all
yi Wannabes, Apprentices, Journeymen( and women ) out there, tomorrow
is Les Cherchuers' BOW Tournemet! Find out who is the Best Of the Weak!
Go to the Les Chercheurs' Scroll for more info on the Tourney!