Day 324, Year 543 of the Ascendancy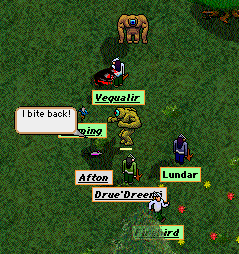 It's that time of the year again. The Feast of Tsr'rin has come 'round
once more to Puddleby, and it's time once more to throw on colorful
costumes to spite the Darshak, and collect tasty candies from firendly
townspeople. I haven't been able to collect too much candy yet, because
my pack is nearly bursting, but I've been having a lot of fun with the
costumes. Corstun seems to have aquired some new costumes for this
year's festival, and some of them have been quite popular, especially
the old sylvan and mummy costumes.
Today was my clan's monthly meeting, and although
we had a small turnout, we went hunting in the Snaggle Wood and Lily
Pond. Most of us chose to wear the old sylvan costumes except for our
Clan Lord, who chose to wear a spriggan costume, and Afton, who dressed
up as a rat. This led to quite a lot of confusion during the hunt as we
kept trying to attack Afton, and kept stepping on poor Fleming… All
in all though, it was quite a lot of fun. I also got to speak with the
phantasm expert Mr Pudding today, and gained some insight into the
workings of the Phantasmonomicon. Hopefully I will be able to join the
next expedition to Kizmia's Isle, and obtain myself some catsbane.