With the exchange of a chain and the playing of a song, the Armor Deal was completed today. More than 40 exiles showed up to Melabrion's conference room to witness the historic event, and the brothers Melabrion and Sombrion were present to accept the final items of the trade. Beer was provided for by a friendly Sarir.
The highlight of the event was of course the drinking song that Phineas has spent many moons working on. Phineas performed three songs that he wrote for the occaision(lyrics can be found here), with the help of the two mystic bards Sutai and Ansset. The reception from Melabrion was very positive(he consumed about 20 beers during the performance), and he handed out the promised armor at the conclusion of the song.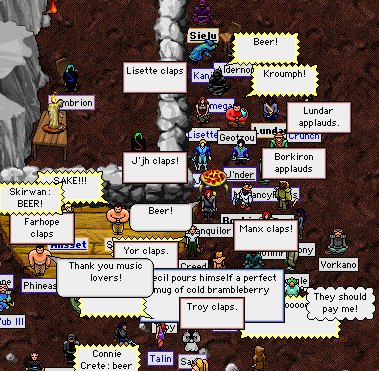 Following the trade, the items were taken back to smithy for analysis. Exiles now have the ability to forge breastplates, shields, and helms of iron and bronze. It is not known exactly what these items do, but it is believed that they add a small detha bonus. It takes a good number of ingots to forge some of the larger pieces of armor though, and I expect prices for these metals to skyrocket in the near future.