Day 135, Year 548
It seems that I will not be camping in the Power Room, after all.
Today, I awoke to find myself not in the Power Room, as I expected, but
right in the middle of OC4. Needless to say, I was fried by lightning
bolts faster than you can say "orga warlock".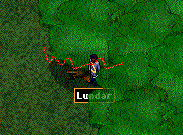 A rude awakening

Luckily for me, there was an Orga Zealot nearby, that teleported me
to OC1. The Mystic Phiros soon organized a rescue for me, but
unfortunately, the rescuers ended up needing to be rescued as well.
Oops.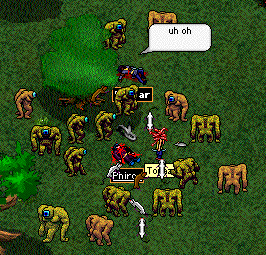 Rescue gone awry

Eventually, a large party swung by OC to get us all back on our feet
again. So now I'm back in town again. My plan of camping out in the
Power Room didn't work, so it seems we'll just have to do this the hard
way again, next moon. With any luck, we won't run into the problems
that we did during the last FMOCR.