Day 278, Year 542 of the Ascendancy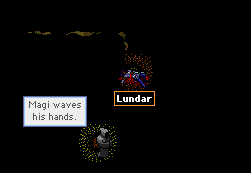 Today the full moon hung high in the night sky, and a large party of
exiles led by the Mystic Zorton tackled the Orga Camps, in an attempt
to attain yet another Teleportation Stone. The orga provided a lot of
resistance, and many times the party was forced to retreat, and get
reinforcements. I however, had nothing to do with the raid. I was too
busy exploring and mapping the McBolie Cavern.
The McBolie Cavern is in truth a system of
interconected tunnels, that run underneath the lake of Devil's Isle.
The Cavern is filled with many twisty, maze-like passages, and there
are many advanced paths hidden amongst the tunnels. My theory is that
one of the paths in the Cavern might lead to some yet to be discovered
area. So I set about the dangerous task of mapping the Cavern and
testing the paths. I explored and mapped the tunnels alone, which made
my work perilous because of the deadly rock formations, and violent
creatures such as Deadly Adders and Pumaces. Yet, I managed to overcome
these challenges, and discovered where many of the paths in the Cavern
led, though there were many paths I could not open. This went on for
quite some time, until I made a wrong turn in one of the tunnels, and
ended up flat on my back. Now, the McBolie Cavern entrance is one of
the hardest paths in the lands to open, so I knew I was in trouble.
That's when the Magi arrived.
The cloaked figure suddenly appeared out of
nowhere, just a few feet from my body, and nearly scaring the wits out
of me. The figure blinked out for a few seconds, then appeared again,
then disapeared yet again. The figure seemed to be flickering in and
out of reality, before it finally materialized fully. The Magi stared
at me intently, and suddenly my body began to give off a faint glow.
Then, the Magi made a sudden sweep of his hands, and I was back on my
feet again. The Magi was gone before I could even get out a few words
of thanks, leaving me to stare open mouthed at nothing. This Magi is
definately an enigma; only a few scattered sightings of him have been
reported, where he performed rescues similar to mine. Who this Magi is,
no one seems to know, though he certainly seems to be a benevolent
being. Perhaps he is a powerful healer, that has learned how to
teleport himself to those in need. Time will tell.