Day 22, Year 548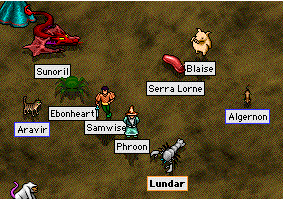 The Feast of Tsrinn is winding down to a close, as the planets return to their normal places in the sky. Aravir, Azriel and Paramedic have written about some of the chaos brought about by the Feast of Tsrrin.
As for myself, I've been mostly hiding in the library, waiting for the
whole thing to blow over. I did, however, make a few treks out of the
library to collect some candy. This was my 3rd or 4th Feast of Tsrrin,
but I still had trouble finding the exiles who were passing out candy.
I scoured the entire northern farms, but came out with only a single
candy bar. I had better luck finding some other things, however.