Day 265, Year 541 of the Ascendancy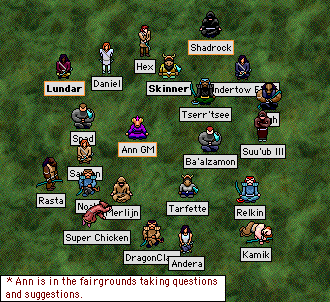 Ann GM appeared today in the fairgrounds, and listened to the many
comments and questions of us exiles. Some of the topics covered today:
4th circle+ tests for fighters and healers, gems that imbue items with
abilities, the court system, and the current demo area, Agratis. (Read
the full edited transcript here.)
In other news, there seems to be a sudden wave of new exiles, who all
seem to hail from some sort of Dream World(Alchera, I think they call
it). It seems that their Dream World recently collapsed, so a few of
them were able to flee Puddleby. There seem to be more refugees
arriving daily, and I am sure everyone is overjoyed at the new influx
of exiles.