Day 151, Year 549

The Lar Shardik or Feast Hunt was held today, with much success. 18
valiant hunters showed up for the Hunt, and were split up into three
competing teams. Each team was tasked to hunt for a Feral, Starbuck,
Brown Bear, Shredder, and Blood Hawk for the upcomming Feast. The team
that returned first with all of the creatures would be declared the
winner, and win a piece of metal for each member of the team.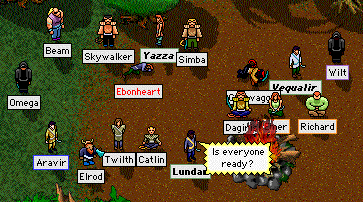 Gathered for the Hunt

The teams were picked by the three "team captains"– Yazza, Twilth,
and Dagiris, who picked their teammates from the assembled hunters.
Once the teams were settled, they were given a few minutes to come up
with a plan, and then the contest was begun!
I was the judge for the event, so I didn't get to see any of
the action, but from what I heard the teams had the most difficulty
finding a Blood Hawk, which I found surprising– they never seem to
have trouble finding me!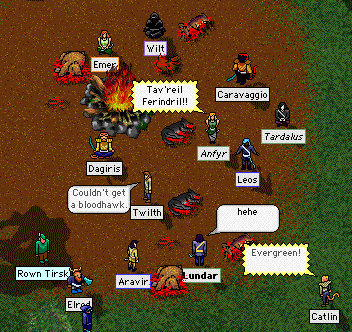 The Feast Hunt draws to a close

In the end, the contest was very close with Dagiris' and Twilth's
team coming in within minutes of each other. However, it was Dagiris,
Carravaggio, Emer, Wilt, and Vequalir who won the Feat Hunt contest.
Afterwards, we all took the meat to the river to be washed, and salted
and dried it in preparation for the Feast.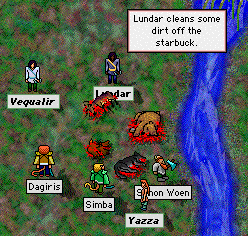 Cleaning the day's catch

Thus the Feast Hunt was a great success, and I hope that everyone
will be coming to the Flower Ball this upcomming Sombi(Sunday) to enjoy
the feast.
The only thing that bothered me about the Hunt was that the
troublemakers Wilt and Ebonheart decided to participate. However, it is
not customary of sylvans to turn away a hunter from the Lar Shardik,
even one's own enemies, so they were allowed to compete. Hopefully Wilt
will use his new piece of metal to do good, and not harm to the exiles
of Puddleby.