Day 273, Year 549
My clan's monthly meeting was held today beneath the trees of the Myrm
Highlands. At today's meeting we had the pleasure of inducting two new
Hopefuls: Nip the Warrior and the talented bard Ly'fender. Just last
meeting Sasha and Midleaf joined us as Hopefuls as well.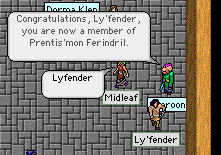 Our new Hopeful

It is very exciting to see the clan is expanding so quickly!
However, with the influx of so many new members, a few conflicts have
inevitably arisen. Luckily, ELF now has a new discussion board
to deal with such issues, as well as other, lighter matters. It has
been many, many years since ELF has last had a discussion board, so I
am very excited about this new forum!
Anyway, onto the hunting. After the meeting we decided to do a
quick hunt on Melabrion's Isle as a "warm up" for our real hunt. This
proved to be quite disasterous. Before we could even get close to the
shore, we became plant food for a swarm of Giant Carnivorous Plankton.
Then, we were stoned to death by an entire extended family of
disgruntled Sasquatches. Needless to say, this changed our hunting
plans some. We decided to move our hunt to the Scaramis Pit.

Hunting in the Pit

Hunting in the Scaramis Pit proved to be much more successful
than hunting on MI. We managed to clear out several chambers of the Pit
fairly easily, and for a while it seemed that we might all make it out
of the Pit in one piece. Then Kor'gah and Xepel decided to jump into
the Queen's Chamber. And fell.
What ensued was a massive rescue effort spanning several hours
and involving nearly 30 exiles. It took us a while, but in the end,we
were able to clear out the Queen's Chamber and rescue the two
sillyvans. All's well that ends well, I suppose.

The rescue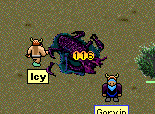 The booty