Day 59, Year 542 of the Ascendancy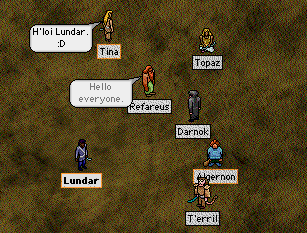 An interesting thing happened in town today. It was a little past
midnight in Puddleby, and few exiles were out and about. Most of the
exiles that were awake huddled in town, complaining about how early
mornings were so boring. Suddenly, the town crier Crius announced that
the first exile to pull a man named Refareus would be awarded a cash
prize. Now, this surprised us all, to say the least. No one had heard
of this Refareus guy before. Soon enough, however, Crius' words were
confirmed, when Refareus repeated what the crier had just said, over
the sunstone network. The race to find Refareus was on, and everybody
dashed off to seek out this mysterious stranger. Only I remained in
town when the dust settled. I had a plan.