Day 90, Year 536 of the Ascendancy
Boy it's been a long time since my last entry!
But, as the wise Worf once said: "When faced with the daily decision of
clanning, or updating your page, Clan Lord wins over every time"(or
something like that). Anyhow, it's been quite an interesting day today.
It all started when I met an ELF member from way back when; Firebird.
It seems that many of the older exiles are coming back: Firebird,
Maqui, and many others. Anyway, after wittnessing the miracle of J'jh
being raised in town(with a record 21 healers), I took Firebird for a
quick tour of OC, and ofcourse for a few falls here and there to Rages
and Warlocks.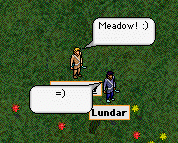 Later that day, I was lucky to be graced by the presence of the vaunted Licenses.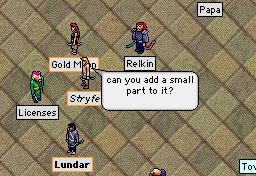 If you have not heard, Licenses can add a short
text string to the end of your /INFO, ooc, and lately she has been in
the lands with increaseing frequency. With her Thoomish aid, I was able
to get the description that I always wanted. Afterwards, I made a treck
to Dal'Noth Isle with a brave band of adventurers, and succesfully made
it to the Dal'Noth Town and back. All in all, it was an exciting day!